High-Quality Interior Columns For Artful Design
HB&G's wood shop manufactures interior columns for homes, offices and more in varying architectural styles, sizes and wood species to enhance the design of your space.
Interior columns offer excellent decorating opportunities by providing another layer of classic, traditional or contemporary elements to enhance a room's design aesthetic.
Load-Bearing Interior Columns: Where Function Meets Style
The open-concept floor plan has exploded in popularity over the past few decades. As a result, most new builds feature an open layout, and many modern renovations involve tearing walls down to the interior columns.
Rather than covering your home's internal architectural structure with cookie-cutter drywall, make the most out of the interior design opportunities load-bearing interior columns can provide.
Interior column design ranges from classic to modern to fit into the existing décor inside your home.
Create Separate Spaces With Decorative Interior Columns
While interior support columns can be decorative, purely decorative interior columns are the perfect solution for those who want to create separate areas in open spaces without using walls.
Interior columns make it possible to designate spaces without blocking light and air. You can also use interior columns to help anchor furniture arrangements and enable seamless yet eye-catching transitions from one room to the next.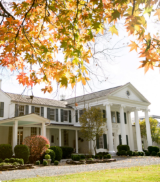 Purchase Classic to Modern Interior Columns
Are you looking for classic, traditional, transitional or modern interior columns? We have them all. Get started by finding an HB&G dealer near you.
Find a Dealer
Frequently Asked Questions About Our Interior Columns
Here are some frequently asked questions about purchasing interior columns from HB&G.
Where Should I Start When Choosing Interior Columns For My Room?
When considering the design of new interior columns, the trim and crown molding already in the space are a good guide. Will your new columns match the style of the existing trim?
If you have eclectic taste, the height of your ceilings can also help you decide what direction to take. Is there enough room for a large or ornate capital at the top of the interior column, or would it look more balanced with a simple, understated capital?
What Species of Wood Do You Have Available in Stock?
Our stock wood interior columns are paint-grade finger-jointed pine.
Do You Make Custom Interior Columns?
Yes, we offer custom sizes and have redwood, cedar and stain-grade custom wood options.
Our architectural experts are here to answer all your questions, no matter how simple or complex. Contact us to learn more about HB&G's interior columns for sale or to make a custom order.
Make a Statement With Interior Columns For Homes & Offices From HB&G
Check out our information center to find out more about load-bearing versus decorative interior columns, installation instructions and more.
Learn More